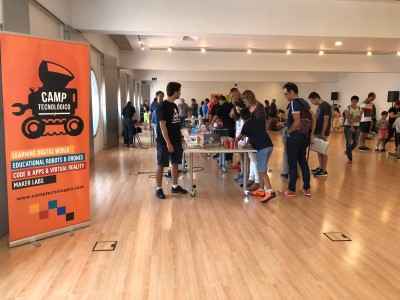 Camp Tecnológico at MetalMadrid
Camp Tecnológico will be at MetalMadrid, a two-day event being held from September the 26th to the 27th at IFEMA (Madrid), where we will present our solutions applied to Industry 4.0 and STEAM.
Camp Tecnológico was founded in Bilbao in 2011 with a clear purpose: bringing coding and robotics to the youngest. We covered what we saw as a gap in the Education System, given the technological changes offering new opportunities and challenges to our community. Later, this educational project spread out to other areas, such as innovation in 4.0 Industry (2017). We are the official distributor of Dobot in Spain —Dobot is a developer specialized in robot arm solutions applied to Industry 4.0 and STEAM training in Professional and Secondary Education as well as for professional uses in Universities, Tech Centers and Industry in general.
Solutions offered by Dobot Magician –a 4-axis robot arm– and Scada type Dobot M1 are of great precision and loading capacity. They are equipped with optional artificial vision, conveyor belt kit to simulate industrial processes, linear rail, ROS-compatible Blockly and Python coding and open architecture to integrate sensors, actuators and PLC.
Camp Tecnológico is the representative for Spain of Dobot Magician, with its solution for learning industry- oriented 4.0; a robotic arm with professional characteristics thanks to its precision and capacity, with its artificial vision systems, conveyor belt kit, displacement lane, and open architecture to integrate with sensors, actuators and PLC. Dobot Magician is one of the best solutions to introduce in the environment of Industry 4.0 as we can see in the simulated plant that Volkswagen has developed assembly of its famous van.